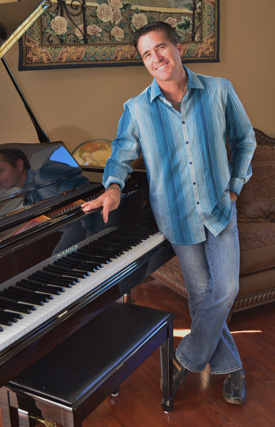 Reviews
COLORS
"Something magical happens when an artist manages to connect music with colors. It adds an extra dimension to any piece of music. One album that has this remarkable quality is John Otott's Colors. It is like a fireworks of exquisite piano melodies, and it is impossible to feel down while listening to this fine release."                                                                                                                       BT Fasmer, New Age Music Odyssey                                       Read the full review 
"For creating music without words I really do not know how much more beautiful and prolific it could possibly get. Otott's brilliance shines brightly in every track and when the music starts and "Tesoro" begins, you know you are in for a lot of special moments."                                                                                        Keith "MuzikMan" Hannaleck, New Age Music Review          Read the full review
"Colors is aptly named – its varying moods convey a rich insight into the creative mind behind the work; sometimes joyous of temperament, elsewise wistful, but always inventive."                                                        The Akademia Music Awards
FLYING MACHINES
"From light and delicate to strong and powerful, the expressiveness of Otott's music clearly demonstrates what an accomplished musician he is. I really like the variety of the pieces on this album – they flow together well as a whole and give a very nice sampling of Otott's versatility both as a composer and a pianist."                            Kathy Parsons, Mainly Piano                                                                                                                              Read the full review 
"If you are a fan of piano music to relax to, this is a definite must have for your collection."                                       New Age Music Review
 Read the full review 
"The strength and emotions aroused by this album are unique. The listener will be mesmerized by this album, where the quality shines in every sense…Flying Machines is highly recommended."                                  Reviews New Age
 Read the full review (Spanish) or read below for the English translation.
The most recent work of multi-instrumentalist composer and pianist, John Otott, is electrifying. A unique combination of artistry and beautiful composition where the piano is accompanied by strings and synths that enhance the melodies. Flying Machines consists of eight pieces filled with sadness, light, optimism and hope. His incredible hands manage to find their place at all times to resonate with the listener for a 25 minute fleeting delight to the senses.
The first composition on Flying Machines is "Falling Softly," a quick note, which is playful and very charming. This piece is soft and tender, but at its zenith becomes passionate. Otott has given life to one of the most outstanding and fascinating pieces of the collection, "Emerald Bay." This song blends a distinctive mix between formal and relaxed. Otott gives life and color with amazing force and passion to this beautiful melody. The song, "Reflection" is one of hope and encouragement. This catchy tune is played very fast. Trying to imagine Otott's hands flying over the piano keys is amazing! The title of the next piece says it all. "One Minute Fairy Tale" is just over one minute long and is written to capture the listeners attention. It is gentle and touching with a fragile and slow start that builds up to an exciting finish. "September's Promise" is no exception. The music completely changes its chorus, showing a strong sense of courage. "Let It Rain" is the strongest piece on the album. This time, Otott departs from the cheerful and dreamy style of the album revealing a slightly darker theme. Behold the masterpiece of Flying Machines, "Remembrance." With a touching start, who would imagine the force that later would show up in this quiet piece. Again, Otott's masterful hands travel across the keys making beautiful, sublime piano music accompanied by a string ensemble. "Serendipity" is the last piece on this EP and is one of those compositions that shows indescribable affection. The serene and crisp notes provide a melody that travels between love and passion. A final caress for the senses and one of my favorites!
Flying Machines is an extraordinary album with extremely good compositions. John Otott has a gift; magnificent, skillful hands combined with the ability to imagine and create vibrant music form the perfect tandem. The strength and emotion aroused by this album are unique. The listener will be mesmerized by this album where quality shines in every sense. Flying Machines is highly recommended and available at Amazon, CD Baby and iTunes.